Lumie Vitamin L Review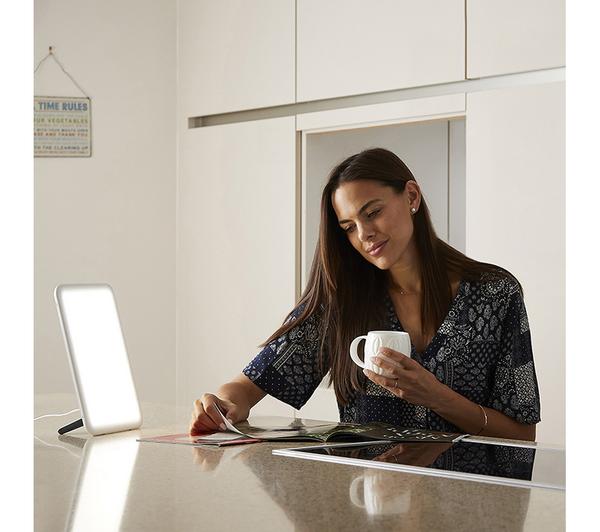 As the days began to get shorter and the sunlight slowly became more of a distant memory, my seasonal affective disorder seemed to worsen.
After speaking with my therapist and trying out a few at-home remedies, I purchased a Lumie Vitamin L SAD lamp to mimic some of the vital energy-giving rays of sunshine that I had been severely deprived of. The lamp made all the difference; its perfectly calibrated display gave off a soothing light that left me feeling relaxed and re-energised in a way that regular fluorescent lighting couldn't reach. It was like being gently bathed with therapeutic sunshine.
We'll be taking a closer look at the Lumie Vitamin L SAD Light and all of its features, design and functionality. This highly effective device has been designed to replicate natural sunlight and help those who suffer from seasonal affective disorder by providing therapeutic levels of brightness and energy. We'll dig into the details of how it works, its pros and cons, some of the applications it can be used in and much more!
Design
I had the chance to test out Lumie Vitamin L recently, and this device is one of the most innovative designs I've seen in a while. It incorporates a unique LED bulb that provides both cool white light and completely UV-free light, which is impressive considering its small size. The device's weight is incredibly light for medical devices — only 0.830 kg (1.83 pounds). Considering its width of 20 cm (7.9 inches), height of 28 cm (11 inches), and depth of 8 cm (3.14 inches), the unit is so lightweight it is easily portable should you want to move it into another room or take it to the office.
The design also appears to be built to last; not only certified to ISO 13485 Medical Devices standards but also passes rigorous safety tests as part of meeting the Medical Devices Directive EC93/42/EEC meaning that you know exactly what you are getting when investing in this product. Overall, I was incredibly impressed by Lumie Vitamin L's overall design and build quality. It's an excellent choice for anyone looking for an effective and reliable medical device that can help promote healthy living through better sleep habits and improved moods!
Features
Portrait/Landscape
As a sun-starved individual, the Lumie Vitamin L is the answer to my prayers. This innovative device is designed for both portrait and landscape use—though we tried it out in both modes, we preferred the portrait orientation as it felt sturdier and more secure.
Treatment Time
When it comes to treatment times, the Lumie Vitamin L truly excels. If set at 10,000 lux at 20 cm, then you don't need more than 30 minutes of exposure; if set at 5,000 lux at 30 cm, it can take from anywhere between 30 to 60 minutes; and finally, if set at 2,500 lux at 50 cm then it takes all of an hour to 120 minutes.
Warranty
Looking at the warranty, I must give a nod of approval here. Buyers are provided with a 3-year Warranty Period, during which time Lumie promise to repair or replace any product that has been deemed faulty – very classy indeed! I can rest assured that my purchase will be as richly rewarding as it was in the dawning sun when I first bought it.
What's in the Vitamin L's Box
My Lumie Vitamin L is everything I need to start my journey to a brighter, healthier life! Inside the box, I find the device itself. The mains power adaptor is generous at 1.8m long – plenty of length to bring the light wherever it's needed! The instruction manual guides me through the setup process with ease and confidence.
Why you might want to get it:
Add a modern and stylish touch to any room with my Lume Vitamin L – the perfect choice for accent lighting.
Soften your living environment with its subtly diffused light, certified by medical experts.
With its portable body, I show off my Lumen wherever I go.
Enjoy feeling secure in quality assurance offered only through an official certification from medical doctors.
Why you might want to avoid it:
No option to mount it on the wall, so you can't free up much-needed shelf space.
Dimming is not an option with this bulb, so brightening or darkening your space isn't a possibility.
Our Verdict
When I decided to invest in the Lumie Vitamin L SAD Lamp, I was hesitant. Does it make a difference in my seasonal affective disorder? Could it put me back on track after months of darkness and lack of energy? The answer is a resounding yes.
The Lumie Vitamin L has been nothing but beneficial for my mental well-being. Not only can its light adequately mimic natural sunlight, but its small size also allows me to take it wherever I go, providing comfort and therapeutic clarity, whether at home or the office. Its unique design features provide an efficient means of regulating circadian rhythms and treating Seasonal Affective Disorder – something that many people struggle with in this ever-shortening winter season.
Moreover, the convenience that comes with the device facilitates a sense of independence and self-sufficiency, which are incredibly important when trying to combat mental health issues caused by long periods of darkness or isolation. It offers genuine hope instead of just another medication routine; I would undoubtedly recommend Lumie Vitamin L as an alternative treatment for anyone struggling with depression during Seasonal Affective Disorder (SAD).